Welcome to Mattoon Vintage and Custom Drums.
Mattoon Vintage and Custom Drums has been operating since 1997, working hard to bring professional players the highest quality vintage instruments available at obtainable prices. In 2016, Mattoon VCD began publicly offering three lines of custom snare drums, build by hand from the ground up for professional percussionists from all walks of life. Today, Mattoon Vintage and Custom Percussion is the largest vintage and custom drum supplier in Western Michigan.

Below, you will find a small sampling of the fine instruments previously offered by Mattoon Vintage and Custom Drums. For a complete list of what is currently available, or to locate that special snare or kit, contact Chris Mattoon today!

---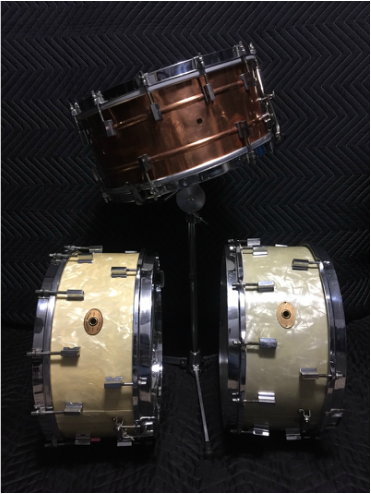 1930's and 1940's Frank Wolf 2-to-1 Snare Drums- (not for sale)
It has probably been many years since these snare drums have been together for a photo - and we are always looking to add more Wolf drums to the family! While these drums are in my personal collection, they are too cool not to share with other vintage drum enthusiasts.
Any Frank Wolf drums, sets, snares, catalogs or memorabilia are always wanted - if you have anything available, please contact Chris today!
---
---
1920's German-made Snare Drum- (Not For Sale)
This early 20th century snare drum from Germany is the same model as the famed Tom Mills snare drum, which later led Ludwig into metal snare drum production. Currently awaiting restoration, it is in remarkably good condition for it's age!
---
Previous Offerings - Not Currently Available.
Snare Drums
Drum Sets
Cymbals and Percussion
Site powered by Weebly. Managed by
Bluehost