Welcome to Mattoon Vintage and Custom Drums.
Mattoon Vintage and Custom Drums has been operating since 1997, working hard to bring professional players the highest quality vintage instruments available at obtainable prices. In 2016, Mattoon VCD began publicly offering three lines of custom snare drums, built by hand from the ground up for professional percussionists from all walks of life. Today, Mattoon Vintage and Custom Percussion is the largest vintage and custom drum supplier in Western Michigan.

Below, you will find a small sampling of the fine instruments currently offered by Mattoon Vintage and Custom Drums. For a complete list of what is currently available, or to locate that special snare or kit, contact Chris Mattoon today!
---
Fine Vintage Drums Currently Available.
---
1965 Slingerland "Sound King" Snare Drum
There's no denying it. These little snares are studio secret weapons. Designed as a competitor to the Ludwig Supraphonic, the Slingerland Sound King features a chrome over brass shell and the COb Sticksaver rims Slingerland was known for. The butt side roller on this drum has been replaced with a machined aluminum modern equivalent. Otherwise, the drum is factory fresh. A few small dentsand some very light pitting keep this from being collectors quality, but for a player, it will be a workhorse of a snare for years to come.
Offered at $225.00
---
1963 Rogers "Holiday" Drum Set
This is an excellent example of an early Rogers "Holiday" set, and would be a great project for someone! Classic early Rogers Cleveland shells, bread&butter lugs, machined collets, tallboy hoops and bowtie t-rods give this set all the hallmarks of early Rogers quality! Yes, some of the lugs are cracked, but they are all present and functional. There is some cracking on the bass drum wrap, but it is along the pattern and still tight to the shell. With a little elbow grease and some restoration, this 13X9 tom and 22X14 bass would be a great foundation for your new big band or early rock set!
Offered at $599.00
---
1928 Slingerland "Hager Music House" Trap Set
Traps kits like this used to be the norm for drummers in the early 20th century. This hard to find set is beautifully preserved and would be a proud addition to your collection! Slingerland made stencil brands were offered to music retailers with custom cloud badges to promote their individual businesses- this one came from Hager Music House in Grand Rapids, MI. A beautiful set of temple blocks mounted on an original trap table, a proper chinese tom-tom with both heads intact and painted, a small assortment of period cymbals, Radio King bass muffler and clamp on spurs, and an early Slingerland bass pedal compliment the 28" mahogany bass. Not many of these around - get this piece of history while you still can!
Offered at $999.00
---
Mattoon Snare Drums - Always a Professional's Choice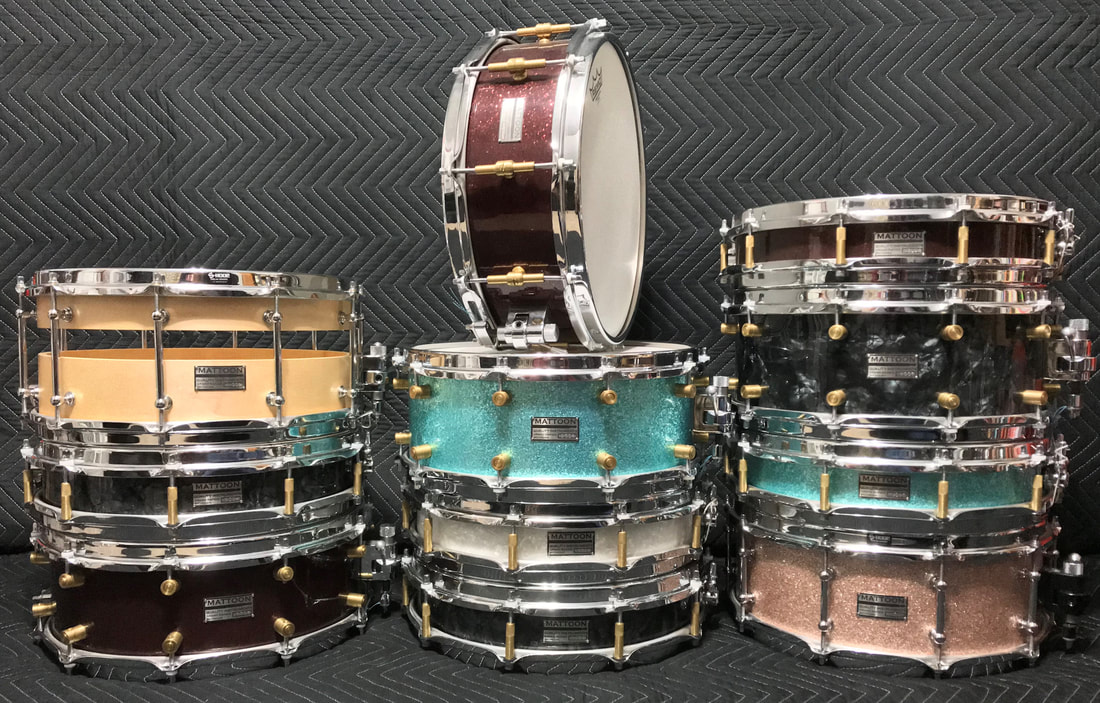 For more information, check out Mattoon Custom Drums
HERE!
---
Recent Sales - Happily Rehomed!
---
1962 Slingerland Drum Set in Sparkling Black Pearl
This is arguably one of my favorite Slingerland finishes - the early Sparkling Black Pearl! This is an excellent players-grade set, with a few long-ago modifications keeping this 20/13/16 kit from being coveted by collectors. The rail mount was moved, leaving one exposed hole and one covered by the new position. The 13" tom had a 60's Ludwig mount added, leaving one extra hole covered by the original diamond plate mount. There is some lifting of the pearl above the lugs on the 13" as well, and one small crack on the bottom of the bass at the seam. Other than that, this kit is in excellent shape! Original inlays, chrome-over-brass hoops all around, and very clean natural mahogany interior shells make this set one you'll want to play on every gig!
SOLD!
---
1966 Ludwig "Superbeat" Drum Set with Jazzfest Snare
This very original Ludwig set from arguably the best decade of the company. 13X9, 16X16, 20X14 with an original 14X5 Jazzfest snare, this kit would be at home in every musical situation. White interiors, keystone badges with serial numbers, white felt baseball bat mufflers. Complete and original with no modifications, very clean and ready to play for another 50 years! Available with or without the matching snare.
SOLD!
---
1964/1969 Ludwig "Super Classic" Drum Set
This set had a rough period in its life, but has definitely been brought back to its former glory! The 13X9, 16X16, 22X16 drum set was brought into our shop covered in a thick layer of black spray paint. Once removed, the shells were wet sanded and buffed, the interiors repainted flat white, and the bearing edges recut. A few scuffs and scratches remain in the original wrap, but nothing noticeable from a few feet away. No extra holes were ever put in the shells, and the original rail mount is still installed. One 13" rim is replaced. The floor tom is a later 1969 blue&olive drum, but matches perfectly. This kit is the ultimate players set!
SOLD!
---
1972 Slingerland "Modern Solo" Drum Set
Early 70's Slingerland sets are some of the best combinations of player's sets and vintage kits. The 3-ply shells and bearing edges give off great vintage vibe, while the 12X8, 13X9, 16X16 and 20X14 sizes are suitable for any playing situation. These black&silver badge kits are some of the best value for the serious player on the market. Completely original, no modifications. A few scratches and scuffs in the original black sparkle wrap, but that's why you will rock this set like it should be.
SOLD!
---
The 2018 Mattoon Drums Calendar is here!
The 2018 Mattoon Vintage and Custom Calendar is here! These 8.5"X13" Wall Calendars come stocked with vintage and and custom drum photos, printed on heavy card stock to last all year.
Offered at $18.00
Site powered by Weebly. Managed by
Bluehost