Welcome to Mattoon Vintage and Custom Drums.
Mattoon Vintage and Custom Drums has been operating since 1997, working hard to bring professional players the highest quality vintage instruments available at obtainable prices. In 2016, Mattoon VCD began publicly offering three lines of custom snare drums, built by hand from the ground up for professional percussionists from all walks of life. Today, Mattoon Vintage and Custom Percussion is the largest vintage and custom drum supplier in Western Michigan.

Below, you will find a small sampling of the fine instruments currently offered by Mattoon Vintage and Custom Drums. For a complete list of what is currently available, or to locate that special snare or kit, contact Chris Mattoon today!
The 2018 Mattoon Drums Calendar is here!
New Arrival! The 2018 Mattoon Vintage and Custom Calendar is here! These 8.5"X13" Wall Calendars come stocked with vintage and and custom drum photos, printed on heavy card stock to last all year. An excellent stocking stuffer for your drummer or yourself! Plus, feel good about the fact that 50% of all proceeds go to giving music lessons to students who could not normally afford them. A gift for you and a gift for them!
Offered at $18.00

---
Fine Vintage Drums Currently Available.
---
1965 Rogers "Holiday" Drum Set
One of the nicest Rogers sets we have come across in a very long time. Completely original and in very nice shape, the blue sparkle is bright and clean, hardware is unmodified and in excellent shape. With 12X8, 13X9, 14X14, 16X16, and 20X14 sizes, this kit can handle anything. The original "powertone" snare and canister throne match perfectly. Two rims and one bass hoop are aftermarket but very functional. Excellent bearing edges. Dayton tags, flat grey interiors, bowtie t-handles and machined collets, this kit is everything you want.
Offered at $3499.00

---
1962 Slingerland Drum Set in Sparkling Black Pearl
This is arguably one of my favorite Slingerland finishes - the early Sparkling Black Pearl! This is an excellent players-grade set, with a few long-ago modifications keeping this 20/13/16 kit from being coveted by collectors. The rail mount was moved, leaving one exposed hole and one covered by the new position. The 13" tom had a 60's Ludwig mount added, leaving one extra hole covered by the original diamond plate mount. There is some lifting of the pearl above the lugs on the 13" as well, and one small crack on the bottom of the bass at the seam. Other than that, this kit is in excellent shape! Original inlays, chrome-over-brass hoops all around, and very clean natural mahogany interior shells make this set one you'll want to play on every gig!
Offered at $899.00
---
1990 Ayotte Custom Drum Set
This is a great little set by Ayotte, from the early days with Ray Ayotte at the helm. These 13X13, 16X16 and 20X20 shells pack a thunderous sound in a small space. The drums are refinished in satin black, professionally done at some point after leaving the factory. A few small scratches and scuffs, otherwise in excellent shape. Original bearing edges sharp and true. No other modifications. Virgin bass.
Offered at $1199.00
---
Recent Sales - Happily Rehomed!
---
1966 Ludwig "Superbeat" Drum Set with Jazzfest Snare
This very original Ludwig set from arguably the best decade of the company. 13X9, 16X16, 20X14 with an original 14X5 Jazzfest snare, this kit would be at home in every musical situation. White interiors, keystone badges with serial numbers, white felt baseball bat mufflers. Complete and original with no modifications, very clean and ready to play for another 50 years! Available with or without the matching snare.
SOLD!
---
1964/1969 Ludwig "Super Classic" Drum Set
This set had a rough period in its life, but has definitely been brought back to its former glory! The 13X9, 16X16, 22X16 drum set was brought into our shop covered in a thick layer of black spray paint. Once removed, the shells were wet sanded and buffed, the interiors repainted flat white, and the bearing edges recut. A few scuffs and scratches remain in the original wrap, but nothing noticeable from a few feet away. No extra holes were ever put in the shells, and the original rail mount is still installed. One 13" rim is replaced. The floor tom is a later 1969 blue&olive drum, but matches perfectly. This kit is the ultimate players set!
SOLD!
---
1972 Slingerland "Modern Solo" Drum Set
Early 70's Slingerland sets are some of the best combinations of player's sets and vintage kits. The 3-ply shells and bearing edges give off great vintage vibe, while the 12X8, 13X9, 16X16 and 20X14 sizes are suitable for any playing situation. These black&silver badge kits are some of the best value for the serious player on the market. Completely original, no modifications. A few scratches and scuffs in the original black sparkle wrap, but that's why you will rock this set like it should be.
SOLD!
---
1970's Zildjian Cymbal Set
This just in - a very nice set of Zildjian cymbals from the mid-1970's. No cracks or keyhole, very clean all around. The 14" New Beat hihats weigh in at 950/1366g, and have excellent definition and 'chick'. The 16" medium thin crash is a light 867g, and is a great cymbal with even wash and no odd overtones. Finally, the 20" medium ride cymbal has a great bell and nice stick definition, weighing in at 2496g.
SOLD!
---
Mattoon Snare Drums - Holiday Special!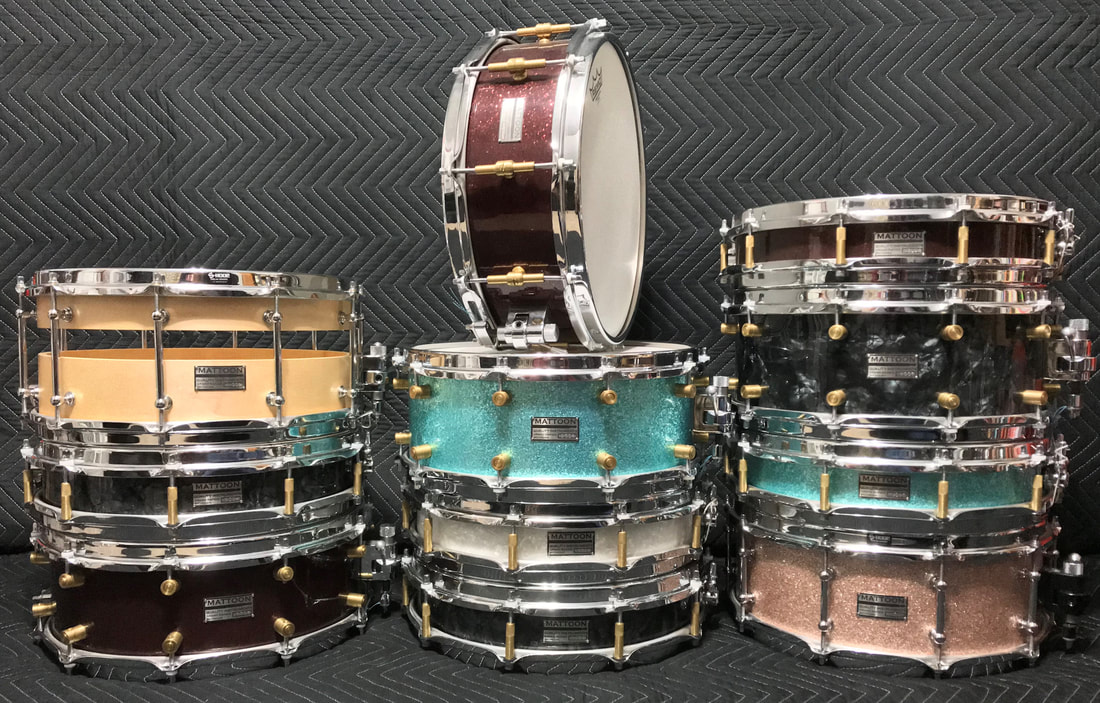 From now till December 25th, receive 20% off your order of a new Mattoon Snare Drum! Inquire for details!
Site powered by Weebly. Managed by
Bluehost